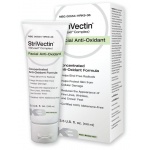 Rating: 4/5
I have been using Strivectin Anti-Oxidant for a month now. It is supposed to get rid of radicals and soften lines on the face. I think it really softens the lines. I really enjoy using this. I do not know though if I really need it yet and if I will buy another tube if I empty the tube since there is something that I am really itching to try. This has a very subtle scent, it is immediately absorbed, easy to apply and does not have harsh reaction with my Olay Regenerist night and day cream. It is also very economical because a little goes a long way. After applying this the skin feels velvety smooth and so it's easier to apply the moisturizer.
Hmm... while I am writing this, I am beginning to ponder whether I can really live without this tube or not... hehe...
I have not been getting much sleep lately and so my eyebags are sooh dark again! I am now trying out Shiseido BioPerformance for the undereyes again hoping that it can do wonders for me. Today is the first day I am trying it. I am using it with StriVectin SD for the eyes.