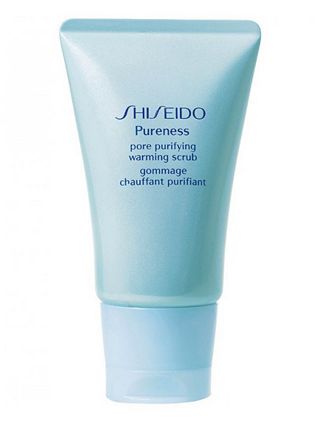 Rating: 3/5
I was obsessed about my pores for a while and so I tried Shiseido Pureness Pore Purifying Warming Scrub ( I know this sounds so much like the Estee Lauder Idealist)and then the Shiseido Pureness Cooling Essence. The Cooling Essence it to be applied on the pores (avoiding the mouth and eye area, maybe because it's drying) night and day. The Pore Purifying Warming Scrub can be used once a week because this has beads that exfoliates.
I tried this but stopped using it because I did not see immediate effects and also, a few days after I bought this, I got obsessed with Estee Lauder's Idealist Thermal-D Refinisher. It won the Cosmopolitan award then. The Shiseido Pureness line is cheaper than the Estee Lauder's Idealist line.
I still have these, do you think I should give it another try? My concern is that Pureness is a line for oily skin, and I am past the oily stage. I am already 28 so while I have bouts of oiliness at times, most of the time, my skin is parched and in need of moisture. I am just worried it might ruin the balance (as if!) of my skin.